Riding in MA during COVID-19
Massachusetts is under a stay-at-home advisory, per notice by the Governor, until the foreseeable future in order to prevent the spread of the COVID-19 novel coronavirus. This is something that has never occurred on this scale and severity, and in these unprecedented times MassBike has received a lot of inquiries as to whether it is still safe and smart to ride your bikes outdoors. (Got an indoor trainer? No problem!)
Our response has generally been to follow the directives of the Governor's Office and the CDC, which have not suggested banning bicycling or other forms of active transportation or exercise as long as folks can maintain safe distance from one another. But MassBike certainly agrees with, and wants to reiterate, the official message of #StayHomeSaveLives. We encourage you all to stay home as best you can.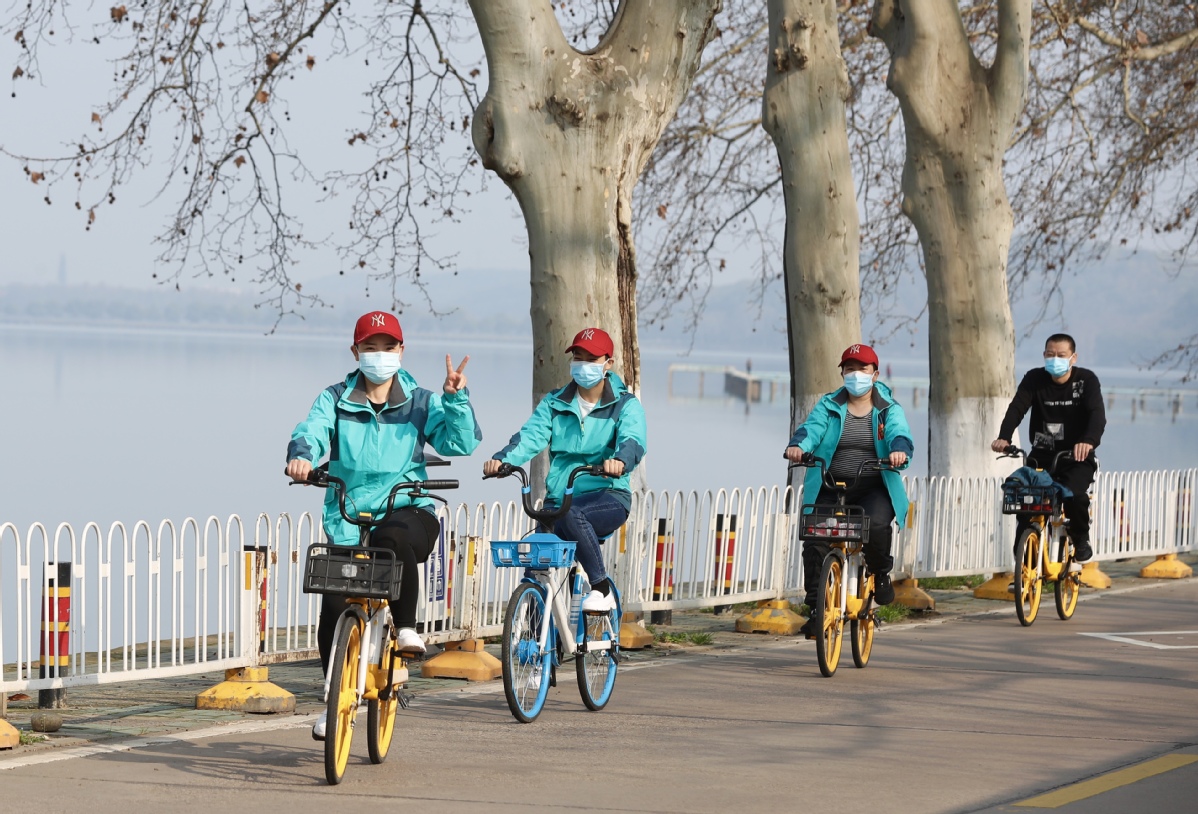 Doctors in Wuhan, China enjoying a bicycle ride on their break. (ChinaDaily)
But we also recognize that bicycling is a lifeline for a lot of people throughout Massachusetts, and not just during the public health crisis. For many essential workers, bicycles are a primary mode of transport to get them to their jobs. Doctors and nurses, grocery clerks, cleaning and sanitation staff, pharmacists, journalists, and more depend on their bikes to get to work (which is why MassBike advocated strongly for bike repair to be considered an "essential service" by the Office of the Governor, read more here). Bicycles also allow for short and long distance travel while still maintaining physical separation from others, especially for those who do not have cars and want to avoid public transit. Bicycling also helps people save money, which is crucial for all of us as we unfortunately have an economy in free-fall that has millions of people suddenly out of work. And biking of course still allows for active transportation, so people can get exercise as they get where they are going. For these reasons, and more, the bicycle will be an important tool for fighting this disease by building mental as well as physical fortitude.
So how should we modify our riding to fit these uncertain times? Since the data is still changing by the day, we recommend checking with the CDC and mass.gov for latest updates, but in the past few weeks we've seen some basic guidance from riding clubs and advocacy organizations that boil down to these six points:
1. Ride solo, or with those you're already quarantined with.
2. Carry all you'll need, so you won't need to rely on interacting with other people or depend on stores that may not be open.

3. Take the path less traveled, and find places that have open space.
3. Ride with caution, since our medical community is already overburdened you really don't want to end up in a hospital.
4. Wash your hands, you've likely got some grease on them anyway.

5. Wear a mask even if you're not feeling sick, since we know there are many asymptomatic people out there and we should all be mindful that we may be carrying the disease.
6. If you're sick, stay home! Do not ride if you are ill or experiencing symptoms of Covid-19.
Read more