A government minister recently caused outrage when he suggested that, due to a change in pension rules, pensioners would be free to spend their savings on a Lamborghini.
But is it such a bad idea? With bank interest rates wallowing at around 0.5 per cent, there's little point in keeping cash in the bank. And with the news from private bank Coutts that the values of some classic cars have risen 257 per cent between 2005 and 2013, sinking your money into an old Ferrari or vintage Jaguar might just be a sound investment.
But what's the secret of investing in a classic car? We visited Aston Martin Works in Newport Pagnell, Bucks, to get the experts' view on cars to look out for and how to get the most out of your money.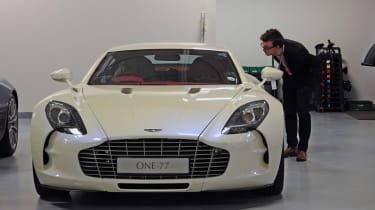 The first thing we learn is that a classic car is now seen as a better guarded and more profitable place to put your money than a bank. "In Europe, interest at the banks is at an all-time low. So rather than put it there, some people are putting it into cars," says Paul Spires, general sales manager at Aston Martin Works.
"You might buy a car for £65,000, and in five years it might be worth £80,000, and you've had five years of fun. Put it in the bank and you might have £65,000 – if the bank is still there," he adds. But not everyone is purely in it for the money. "We get a mix of people: those looking to buy a car because they like a car, and those who are doing so as an investment," says Spires.
So, how do you go about making your first big purchase in the classic car market? James Knight, group motoring director at auction house Bonhams, offers some expert advice. He says: "You have to do your research and decide what you want. But also think about all the other costs. You need to buy the car, insure it, store it and have it restored."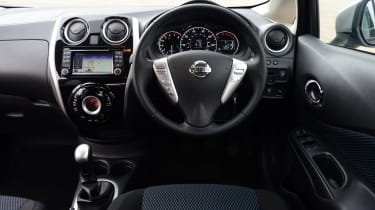 And what is James' advice on cars that could potentially make a profit in the future? "Things like, is it known from TV? Does it have full documentation? All these add desirability and make the car worth more."
With such a rise in values, could the market dip or plateau? It's unlikely, according to finance journalist and ex-Sotheby's expert, Simon De Burton. "The value of the most sought-after cars will continue to rise, thanks to interest from emerging markets," he says.
So it's clear. Ditch the savings, withdraw the pension and pile it into high-end classics. And if you don't have limitless funds available to get started, we've picked five worthwhile purchases currently available for under £10,000 with the help of David Lillywhite, editor of our sister publication Octane.
Our guide to investing in a classic car
The right brand
Jaguar E-Type: Although values have risen by 257 per cent on some classic cars, this kind of increase won't apply to just any old car from any manufacturer. An Austin Maestro isn't going to rocket to £70,000 in the next five years, for example. 
This massive surge in price is usually only reserved for certain brands and the right kind of cars from those manufacturers. You'll need to head to high-end stuff from the likes of Maserati, Bentley, Aston Martin and Jaguar in order to make a serious profit.
Limited numbers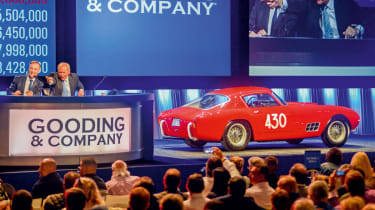 1957 Ferrari 250 GT 14-Louver Berlinetta: It's fairly simple logic that buying cars that had a limited production run will eventually pay off. Take the 1957 Ferrari 250 GT 14-Louver Berlinetta, for example. With just eight examples left on the road (out of nine built) one sold for more than £5.6 million when it was auctioned in August last year. Look out for limited edition versions of cars, too.
An illustrious past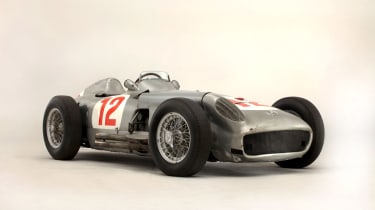 1954 Mercedes-Benz W196R: If a car has been owned by someone famous, or played a starring role in TV or films – like James Bond's Aston Martin DB5 or Keith Richards' Ferrari Dino – then it's likely to push the value up even higher. But it's not just the silver screen that helps. A car used in motorsport is also likely to get a high price at auction. Last year, the Swiss Grand Prix winning 1954 Mercedes-Benz W196R Formula One racing single-seater hit a record breaking £19,601,500.
Buy at the right time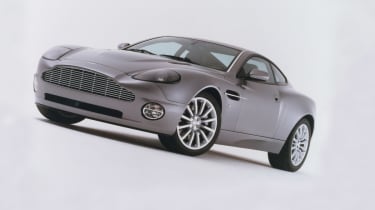 Aston Martin Vanquish: There's no exact science to this sort of investment, and you may just have to take a lucky punt. At some point in a car's life, it may be at a low enough value for you to part with your cash. If you buy at the right time, the value will take off soon after.
One such example is the standard [non-S] version of the Aston Vanquish. Anyone who put their money into the car around 2008 or 2009 would have purchased it at its lowest value. It's now starting to creep up in value, much to the delight of owners.
Barn find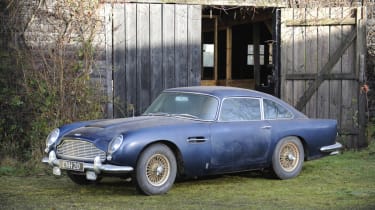 Aston Martin DB5: The next time you're down the pub and a friend offers to sell you a rusting, dusty old car from his garage or garden shed, have a think before you turn them down. Despite their poor condition, so-called 'barn finds' can go for big money – even if it means the buyer is going to have to keep on spending to bring the car up to nearly new condition. An Aston Martin DB5 that had sat in a barn for nearly 30 years recently sold for £320,700 – the owner paid £1,500 for it in 1972.
Click through to page 2 for five sub-£10k classics that could make you money, plus tips from a serial classic car collector.