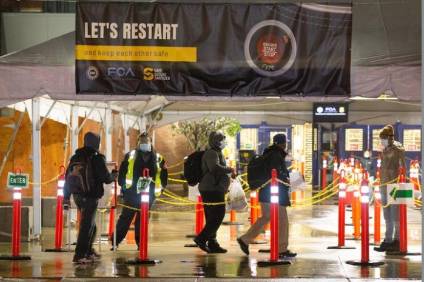 The auto industry, like others, is now recovering from an unprecedented crisis
As we enter a recovery phase around the world, we aim to bring you the latest news and intelligence on the speed, nature and shape of the automotive sector's recovery from the COVID-19 pandemic.
This regularly updated article follows on from our COVID-19 daily update article that covered rapidly unfolding crisis developments and their immediate impact on autos (first published March 12).
Check back for:
12 November
New vehicle sales in Vietnam increased by almost 16% to 31,607 units in October 2020 from 27,271 units in the same month of last year, according to wholesale data released by the Vietnam Automotive Manufacturers Association (VAMA). The vehicle market looks to be recovering from a sharp decline earlier in the year, after sales began to stabilise in the third quarter following an almost 30% decline in the first half of the year.
11 November
Australian new vehicle sales fell 1.5% year on year to 81,220 in October and Tony Weber, chief executive of the Federal Chamber of Automotive Industries (FCAI), said the results were welcome news for the automotive industry. "After a very challenging year, we are seeing green shoots in the Australian new vehicle market. Every state and territory except Victoria and Tasmania have seen significant growth and, given the [extended lockdown] circumstances, Victoria's result is seen as encouraging," Weber said.
October registrations of new vehicles in New Zealand continued the downward trend for 2020, the Motor Industry Association (MIA) said. Registrations were 20.6% lower year on year at 11,876 vehicles. 
China's new vehicle market continued to recover in October 2020, with sales rising by 12.5% to 2.57m units from 2.29m units in the same month of last year, based on passenger car and commercial vehicle wholesale data released by the China Association of Automobile Manufacturers (CAAM). The economy has rebounded strongly from the COVID-19 pandemic earlier in the year, helped by huge government stimulus including sharply higher fiscal spending, interest rate cuts and lower reserve requirements for banks.
Sales of imported light passenger vehicles in South Korea rose by just over 9.8% to 24,257 units in October 2020 from 22,101 in the same month of last year, according to member data released by the Korea Automobile Importers & Distributors Association (KAIDA).
10 November
Group after tax profit at Porsche was back in positive numbers in the first nine months of 2020, at EUR437m though that was down significantly on the EUR3.52bn booked a year ago. 
9 November
Early signs from the first light vehicle sales reports of October are in line with analysts' modelling for the month, and if anything a little more positive, according to GlobalData analysis. In West Europe it was no great surprise that the boost from incentives began to wane and hard economic reality set in. 
6 November
Toyota Motor doubled its full year earnings forecasts for the current financial year with production and sales recovering from the global COVID-19 pandemic faster than had been previously expected.
5 November
General Motors reported adjusted EBIT up 78% year on year to US$5.3bn for the third quarter of 2020. ""Sales in the US and China are recovering faster than many people expected," the automaker said.
The UK new car market was down by 1.6% in October, with 140,945 cars registered, marking a nine-year low for the sector, according to data released by the Society of Motor Manufacturers and Traders (SMMT). SMMT said the Covid 'firebreak' population restrictions in Wales (which closed non-essential retailers, including car dealers) accounted for more than half of month's losses. A similar 'stay at home' order for England starting 5 November will force more UK showrooms to close this month.
4 November
BMW has posted a set of financial results for the third quarter lifted by stronger sales and rebounding demand in key markets, most notably China. However, the company warned of risks ahead due to the pandemic 'gaining momentum'.
3 November
Domestic sales by South Korea's five main automakers combined increased just slightly in October 2020, to 135,495 units from 134,895 units in the same month of last year.
2 November
The Volkswagen Passenger Cars brand recovered "noticeably" in the third quarter of 2020 after the pandemic related slump in the first half of the year, the automaker said
Renault Samsung Motors has announced it will suspend production at its only plant, located in the South Korean city of Busan, for the first two days of this week to help control inventory. The South Korean Renault subsidiary also released its sales performance data for October – a 49% drop in global sales to 7,533 vehicles from 14,826 a year earlier.
29 October
UK car manufacturing output fell by 55 in September to 114,732 units – the lowest level for 25 years, according to data released by the SMMT. The SMMT noted that production for export was down by almost 10% at 87,533 units as companies continued to wrestle with the uncertain economic and political environment and COVID-related challenging global market conditions. Exports to key overseas destinations, including China, the EU and US fell 1.2%, 3.3% and 30.0% respectively.
28 October
Sales of new vehicles in southeast Asia's six largest markets combined declined by almost 24% to 643,365 units in the third quarter of 2020 ( from 842,199 units in the same period of last year), according to data collected exclusively for just-auto. However, the trend during the year shows an improving trend as buyers returned to the market after lockdowns eased.
27 October
As recovering vehicle markets in Europe take on a green hue, helped by incentives that encourage electric car purchase, it seems that many carmakers in Europe have started to see a significant reduction in their average CO2 emissions levels. It's one bit of good news this year. Indeed, the carmakers are largely on track to hit targets set by the EU, new research says.
23 October
Renault said Q3 2020 was marked by a "recovery in the trend of the global automobile market", with a 4% drop compared with a 28% decline in the first half of the year. In Turkey, a market experiencing a very strong recovery (+178.0%), the French automaker increased sales by 131.1%.
Daimler raised its profit outlook for 2020 on the back of improving demand and measures to contain cost and preserve cash. Third quarter EBIT was up by an impressive 14% on last year. Cost cuts and draining dealer inventory as well as a big rebound in Mercedes sales in China boosted the results.
22 October
No deal – exiting the EU on 31 December without a trade deal with the bloc, thus reverting to World Trade Organisation (WTO) terms imposing a 10% tariff on finished vehicle trade – would be the worst possible outcome and undermine Britain's green recovery, the Society of Motor Manufacturers and Traders said. "Just as the automotive industry is accelerating the introduction of the latest electrified vehicles, it faces the double whammy of a coronavirus second wave and the possibility of leaving the EU without a deal."
Organisers of the UK exhibition for the automotive aftermarket, Automechanika Birmingham, have announced it has been postponed to 7-9 June 2022, from June 2021. That followed postponement of Automechanika Frankfurt to September 2021 as a result of the COVID-19 pandemic.
21 October
The month of September brought the strongest sales of the year for the global light vehicle market. The month proved to be a welcome relief after the SAAR rate slipped in August. As it was, September's SAAR managed to sneak past the year's previous high of 87.6m recorded in July with a SAAR of 88m. Global sales just managed a year-on-year gain of 0.2%.
20 October
Leaders of the European Automobile Manufacturers' Association (ACEA) have called on EU policy makers and national governments to step up support to the auto sector, which continues to grapple with the fallout of COVID-19. ACEA says the corona crisis has rocked the EU auto industry, leading to production losses of more than 4 million motor vehicles to date (worth some EUR122bn). Registrations of all vehicle types have plummeted over the first three quarters of the year, with car sales forecast to drop by a historic 25% in 2020, ACEA says.
Amazon, set to become one of the global auto industry's best customers for electric delivery vans, was, along with Spotify and Netflix, among the biggest risers in ranking amid global COVID-19 lockdowns in the 2020 Interbrands Best Global Brands Report. Toyota (#7; US$51,595m) and Daimler's Mercedes-Benz (#8; US$49,268m) made the top 10 and Tesla (#40) was listed among 're-entrants'.
BMW says that its getting a cash flow boost as vehicle markets continue to recover from the pandemic-induced population lockdowns of the spring. BMW said in a statement that preliminary free cash flow for its automotive business in the third quarter 2020 amounts to EUR3,065m (previous year: EUR714m) and exceeds current market expectations. This, it said, was due in particular to a faster recovery in several markets, which led to higher sales growth.
New vehicle sales in Thailand declined by just over 4% to 77,433 units in September 2020 from already weak volume a year earlier, according to wholesale data compiled by the Federation of Thai Industries (FTI). This was an improvement on previous months, however, after sales fell by 15% year on year in August, by 27% in July and by 50% in the second quarter of the year when widespread lockdowns caused the economy to shrink by 12%.
19 October
Thermal management systems supplier Voss Automotive said on Monday it had acquired Henzel Automotive which last year booked sales of EUR32m and had 268 employees. Despite the COVID-19-related market slump, the new owner "expects previous year's sales will be exceeded".
16 October
Porsche is claiming "robust demand" during the COVID-19 pandemic affected first three quarters of 2020 though sales worldwide fell 5% year in year to 191,547 vehicles.
15 October
Daimler has reported preliminary third quarter financial results that it says reflect a faster than expected market recovery and a particularly strong September. Daimler also said it expects a positive impact for the remainder of the year, however with the fourth quarter 2020 to show the usual year-end seasonality pattern. The statement on future expectations was made under the assumption of no further COVID-19 lockdowns.
15 October
Malaysian car assembler and distributor Naza Group is said to be looking to give up its local Kia and Peugeot franchises due to weak domestic sales caused by the COVID-19 crisis.
14 October
As the autumn (fall) progresses, the trends in the US for COVID-19 are "worrisome", according to Cox Automotive analysts. "Daily new COVID-19 cases continue an upward trend. The case growth is accelerating and causing higher hospitalisations as well. The impact on the economy continues," they said in a report.
13 October
Data released by the China Association of Automobile Manufacturers (CAAM) shows that vehicle sales in China reached 2.57 million vehicles in September, a gain of 12.8% on September 2019 sales. The gain continues the rapid rate of recovery in China's automotive market this year and is the sixth consecutive month of year-on-year growth. However, cumulative sales of vehicles for the first three quarters of the year in China are 6.9% down on the same period last year, at 17.1 million units, reflecting lost sales in the early part of the year when China's market was hit by the COVID-19 induced population lockdowns.
12 October
General Motors on Monday reportedly said continued market recovery from the COVID-19 crisis helped its China vehicle sales grow 12% on year in July-September, its first quarterly sales growth in the country in two years.
Though uncertainties about the Brazilian economy in 2020 remain, downturn in the auto industry will be less than expected.
New vehicle sales in Vietnam were just slightly lower at 26,848 units in September 2020 from 27,058 units in the same month of last year, according to wholesale data released by the Vietnam Automotive Manufacturers Association (VAMA). The market had begun to stabilise after declining by almost 30% to 102,720 units in the first half of the year, with sales in August down by less than 4%. Vietnam had avoided falling into recession this year, helped by pre-emptive action early on to control the spread of the COVID-19 pandemic.
9 October
Valeo says it will keep all its sites in France open with no compulsory redundancies in the next two years. Three months ago, faced with an automotive sector severely impacted by the crisis caused by the pandemic, Valeo's management started discussions with labour organisations aimed at preserving the competitiveness of its sites in France.
8 October
Taiwan's new vehicle market expanded by over 13% to 37,241 units in September 2020 from 32,854 units a year earlier. 
7 October
To appreciate US light vehicle sales in the third quarter, it's more important to compare them to the results in the second quarter of this year than the third quarter of 2019. Compared to a dismal, COVID-19-constrained second quarter, Q3 sales soared. Third quarter turnover was 32.2% higher than the previous quarter. Even with an extra selling day in Q3 the daily sales rate (DSR) was 30.5% ahead of Q2.
6 October
The recovery of worldwide retail passenger car sales by Mercedes-Benz continued in the third quarter despite ongoing challenging conditions. Global sales of 613,770 passenger cars in the period of July to September were higher than in the prior-year quarter for the first time this year (+3.9%) due to the positive development in China and rising customer demand in many other markets.
Jaguar Land Rover said its plants were back on two shifts after retail sales for the three month period to 30 September 2020 improved significantly versus the preceding quarter but continued to be impacted by COVID-19.
China's auto manufacturing sector rallied in the first eight months of 2020 as the auto market maintained its recovery momentum, industry data showed. Profits of the auto manufacturing sector rose 1.5% year on year to CNY308.48bn (about US$45.3bn) from January to August, an improvement from the 5.9% drop seen in the January-July period.
Domestic sales by South Korea's five main automakers combined increased by just over 25% to 138,530 units in September 2020 from 110,654 units in the same month of last year. In the first nine months of 2020, domestic sales by the big five automakers increased by 7.1% to 1,194,887 units from 1,115,305 units in the same period of last year, with the market having fully recovered from the first quarter declines due to the COVID-19 pandemic.
5 October
The UK car market was down 4.4% versus last year's pace in the month of September, a result widely seen as disappointing and marking the weakest ever 'new plate' September. The recovery to demand following the relaxation of COVID lockdown restrictions from June continues, but the latest data suggests the rebound is now running out of steam as the public health emergency persists.
The UK new light commercial vehicle (LCV) market grew by more than a quarter (+26.4%) in September, according to Society of Motor Manufacturers and Traders (SMMT) data.
2 October
New Zealand's Motor Industry Association said September 2020 registrations of new vehicles reflected "a weaker economy affected by the worldwide COVID-19 pandemic".
1 October
It is reported that Uber is in talks to acquire FreeNow, the BMW-Daimler combine which is an Uber ride-share competitor in Europe and South America. Like all new mobility providers FreeNow has struggled during the Covid-19 pandemic, with BMW and Daimler reportedly touting the business for new investment. Now Uber is reportedly in talks to ride to the rescue.
30 September
South African car makers have asked the government to reduce taxes on new vehicle purchases as part of a proposed stimulus package for the coronavirus-hit sector.
Chinese state-owned car maker FAW Group had held talks to acquire Italian truck group Iveco earlier this year but these had now been put on hold, two Reuters sources said. Changchun-based FAW, which makes heavy duty trucks under its own brand, is now reluctant to make international deals so as not to be seen to take advantage of troubled companies during the COVID-19 pandemic, one source said. Some European governments have sought to shield key industries from unwanted foreign interest this year, as the coronavirus pandemic hit companies across sectors.
Analysts at Cox Automotive say that they forecast the US light vehicle market annual sales pace in September at near 15.5 million units, the fifth consecutive month of improvement. Cox also forecasts sales volume in September at close to 1.275 million units, close to year-ago levels. Further, they says inventory levels continue to slip lower in conditions of strong demand, with only 3% of available inventory being model year 2021, far below normal levels.
29 September
Thyssenkrupp will realign automotive system engineering activities from 1 October by splitting the current system engineering business unit into two independent units. One will eventually be sold and there will be job losses. The reason for restructuring is a slump in order intake and sales drastically exacerbated by the coronavirus crisis.
Mitsubishi Motors was said to be planning to offer early retirement to some 500 to 600 workers in mid November as part of plans to cut costs and restructure its operations. The Japanese automaker is struggling with falling sales due to the global COVID-19 pandemic.
The UK's auto industry trade association, the SMMT, has launched what it calls the 'Safe Harbour Scheme' to prevent insolvencies and save jobs across auto sector as it grapples with the effects of the coronavirus crisis. The SMMT says the new initiative allows multiple companies to come together to support critical suppliers without falling foul of anti-competition rules.
28 September
Nissan Motor expects to be profitable in 2021 if its current sales momentum continues, chief executive officer Makoto Uchida told reporters at the Beijing International Automotive Exhibition at the weekend. Uchida noted Nissan was beginning to recover thanks in large part to a strong sales rebound in China. After declining by 42% in the first quarter of 2020 due to the COVID-19 pandemic, the overall Chinese vehicle market has grown strongly in the last five month and Nissan expects this recovery to continue.
25 September
August commercial vehicle production in the UK fell 11.5% year on year (better than cars, see below) with 4,915 vans, taxis, trucks and buses manufactured.
Renault Samsung Motors confirmed it plans to suspend production at its only assembly plant until mid October to slow the build-up of inventory.
UK car production declined by 44.6% in August due to the impact of the ongoing COVID-19 pandemic on economies and car demand. UK car output so far this year is down 40.2% with a loss of 348,821 units worth more than GBP9.5bn to UK car makers.
24 September
Mahle is to close two German factories in Gaildorf (Baden-Württemberg) and Freiberg (Saxony), while adding there will be "adjustments to staffing levels" at other locations in the country and elsewhere in Europe. Last week the supplier said it saw no return to pre-crisis levels "for several years," noting it had "excess global capacities of 7,600 jobs."
Valeo has developed what it says is the world's most powerful air sterilisation system for bus and coach cabins. On activation, the system eliminates in a single airflow cycle, more than 95% of viruses, including COVID-19, as well as any bacteria or mould present in the air circulating in the cabin.
August was not a strong month for European new car registrations as volume fell 18% year on year last month, indicating the positive trend seen since May – when lockdown began to ease across Europe – had halted. The bright spot was EV sales – up 121%. 
23 September
Kia Motors said on Wednesday two of its eight domestic plants returned to normal operations following days of suspension due to coronavirus cases.
22 September
Traffic levels during the morning rush hour in Britain have returned to those last seen in January, before the coronavirus pandemic hit, according to data from RAC Insurance. However, it says that this is mainly due to the return of the school run, rather than commuters, with many workers continuing to work from home.
Hyundai Motor said it has reached an agreement with its labour union this week to freeze wages this year to help the company cope with the impact of the coronavirus.
21 September
New vehicle sales in Indonesia continued to plunge in August 2020, by almost 59% to 37,291 units from 90,568 units in the same month of last year, according to member wholesale data compiled by industry association Gaikindo. The global COVID-19 pandemic has taken a heavy toll on the economy so far, both in terms of domestic consumption, investment and exports.
Malaysia's new vehicle market expanded by 3.2% to 52,800 units in August 2020 from weak year earlier sales of 51,148 units, based on registration data released by the Malaysian Automotive Association (MAA). The vehicle market has begun to recover from a 55% drop in the second quarter, after the government imposed its strict Movement Control Order (MCO) in March to help slow the spread of the COVID-19 pandemic in the country. 
18 September
Kia Motors has suspended operations at two vehicle assembly plants located near Seoul until next week after a number of COVID-19 infections were confirmed among its staff. The automaker confirmed 13 coronavirus cases had been traced back to its two plants in Gwangmyeong, including four family members of their workers. 
Thailand's new vehicle market declined by close to 15% to 68,883 units in August 2020 from 80,838 units in the same month of last year. That followed much sharper declines in previous months, including a 27% year on year fall in July and a more than 50% drop in the second quarter, when large parts of the economy were under lockdown to help control the spread of the COVID-19 pandemic.
17 September
EU demand for passenger cars contracted 32% year on year in the first eight months of 2020, ACEA said. A tally of 6,123,852 new cars was registered across the European Union from January to August, almost 2.9m less in the same months of 2019.
15 September
New vehicle sales in the Philippines continued to fall sharply in August 2020, by almost 40% to 17,906 units from 29,599 in the same month of last year. The Philippines is one of the countries in Asia hardest hit by the COVID-19 pandemic, with GDP plunging by a record 16.5% in the second quarter as domestic consumption plunged.
The boards of Fiat-Chrysler (FCA) and Peugeot-Citroen (PSA) have agreed to amend terms of their proposed merger in a move designed to further conserve cash in the light of the ongoing impacts of the COVID-19 pandemic.
14 September
Dacia and Ford, the two carmakers in Romania, produced around 59,500 cars in July and August 2020, up 10% year on year, according to romania-insider.com, citing Romanian Automobile Manufacturers Association (ACAROM) data. The report noted this was the first increase in production since mid March when a state of emergency due to the COVID-19 pandemic paralysed the auto industry.
In this latest guest article written exclusively for just-auto, Dato Madani Sahari, the CEO of Malaysia Automotive, Robotics and IoT Institute (MARii), reflects on the coming together of connectivity and health science in the search for solutions to mobility restrictions resulting from the COVID-19 pandemic.
BMW's Rolls-Royce has resumed full two shift production at its factory in Goodwood, southern England. The automaker said it was again operating at pre-lockdown levels with "workforce maintained and all manufacturing staff on site".
11 September
Supercar maker McLaren Group said it was strengthening its balance sheet by selling its Surrey headquarters in southern England in a deal that could raise GBP200m, a media report said. The deal would be part of a broader strategy to restore company finances after months of disruption caused by the coronavirus pandemic.
10 September
Group Antolin said it had improved its financial position with new COVID-19 financial support loans from Spain, France and the United Kingdom. It had opened an innovation centre in China and all plants were operating while complying with virus prevention protocol.
Schaeffler is cut its net workforce by 4,400 in Germany and Europe by the end of 2022 focusing mainly on 12 locations in Germany and two elsewhere on the Continent. When the COVID-19 pandemic emerged in February and March 2020, resulting in a sharp drop in demand across all three divisions, the group responded with short term counter measures that had so far, it said, enabled it to weather the crisis.
8 September
The China Association of Automobile Manufacturers (CAAM) reckons the Chinese market, the world's biggest, will grow only slightly in the next five years. Though sales recovered in recent months, following the COVID-19 pandemic, CAAM predicted a fall of around 10% for all of 2020.
General Motors has told salaried workers in the US to continue to work from home until at least June 30, 2021, according to a report in the Detroit Free Press (DFP) newspaper. The report cites an internal GM email that states the "current outlook is to continue operating as we are today until June 30, 2021." It also said that GM is working to create "a more flexible work culture" after the pandemic.
7 September
Following completion of its 50,000th ventilator for COVID-19 patients, Ford is now targeting production of 100m masks by the end of 2021 for communities across the US with limited access to personal protective equipment.
The UK new light commercial vehicle (LCV) market returned to decline in August 2020 with a 16.1% decrease in sales.
West European new car registrations fell 15.5% year-on-year (YoY) in August 2020, according to data released by LMC Automotive – although underlying demand was strong, helped by government incentives designed to boost sales in the wake of the COVID-19 pandemic.
Nissan Motor received a record JPY130bn (US$1.23bn) in state loan guarantees in May from the Development Bank of Japan (DBJ), as part of a larger COVID-19 relief package made available by the government
New vehicle sales in Japan continued to decline sharply in August 2020, by 16% to 326,436 units from strong year earlier sales of 388,600, according to registration data released by the Japan Automobile Manufacturers Association. After a 32% decline in the second quarter of the year, the market continued to struggle as domestic consumers retrenched further amid rising economic uncertainty due to the global COVID-19 pandemic.
4 September
The UK new car market continued its underlying recovery in the month of August – though sales were 5.8% down on last year (which compares with a gain during the month of July).
Malaysia's first national car company Proton Holdings reported an almost 25% year on year sales increase to 11,378 units in August, the second highest monthly sales total of 2020.
The organisers of the LA Auto Show have finally confirmed it has been postponed from November of this year and will move six months into the spring of 2021 due to the coronavirus crisis and its impact on public gatherings. The decision sets up a bunching of American motor shows in the April-June period, with LA's show now in close calendar proximity to the Detroit and New York Shows. 
3 September
Australia's Federal Chamber of Automotive Industries (FCAI) has called for a loosening of COVID-19 pandemic restrictions after dismal new vehicle sales in August 2020.
General Motors and Honda said they'd signed a non-binding memorandum of understanding (MoU) to establish a North American automotive alliance.
August 2020 new vehicle registrations in New Zealand were affected by new COVID-19 restrictions, especially the alert level 3 imposed in the largest city, Auckland, after a resurgence of new cases.
China's Geely Automobile Holdings (Geely) – owner of Volvo Cars – has applied to list its shares on Shanghai's STAR stock exchange which would make it the first automaker to be listed on this hi-tech exchange. It sold 530,446 vehicles in the first half of the year, down 19% year on year, but is targeting a 3% decline over the full year to 1.32m vehicles thanks to a rebound in the second half of the year.
2 September
General Motors and Ventec Life Systems have delivered the 30,000th V+Pro critical care ventilator to the US Department of Health and Human Services and GM has exited the joint venture set up during the COVID-19 pandemic.
Domestic sales by South Korea's five main automakers combined increased 5.6% to 111,847 units in August 2020 from 118,479 units in the same month of 2019, according to preliminary data released individually by the companies.
Geely's Volvo Cars said August sales volumes rose 7.2% year on year as its units in Europe, China and the US all reported increased sales. The company sold 51,239 cars last month with growth driven, as is now usual, by "continued strong demand" for the XC SUV range. In the first eight months of 2020, the automaker sold 383,492 cars, though that tally was down 13.5%.
1 September
Toyota says its global sales and production recovered to 90 percent of previous year's level in July and that sales are recovering at a 'faster than expected pace'.
28 August
Online shopping has taken off during the pandemic and there's also been a shift towards electric vans for delivery in urban areas. This order from Amazon for electric vans from Mercedes is the largest electric van order it has received to date. Amazon orders 1,800 e-vans from Mercedes.
UK commercial vehicle (CV) production grew 3.6% in July, according to the latest figures released by the Society of Motor Manufacturers and Traders (SMMT), with 5,234 commercial vehicles rolling off production lines. The slight increase follows a particularly low volume July 2019, when key model changeovers affected factory output, the SMMT said. Nevertheless, a growth result over year-ago levels will be viewed by many as particularly encouraging as the auto industry slowly recovers from pandemic impacts. UK car output in July was down by over a fifth on last year.
A report produced for the 'American Automotive Policy Council' (AAPC) says that American Automakers FCA US LLC, Ford Motor Company and General Motors are vital to the US economy, driving growth in both manufacturing and job creation.
Electric scooters are emerging strongly from the crisis, as people in urban areas look for alternatives to public transport. This looks like good timing from SEAT. Following the presentation of the new SEAT MO brand last June, created to boost the urban mobility strategy focused on micromobility products and services, the company has rolled out its first motosharing service in Barcelona with a total of 632 eScooters available to the public. SEAT MO website
27 August
UK car manufacturing output was down 20.8% in July with 85,696 units made as factories struggled to ramp up output in the face of slowly recovering global demand. The SMMT said that nearly all UK factories reopened after earlier pandemic shutdowns, but that social distancing measures and ongoing economic uncertainty 'still stifled output'. 
COVID-19 and its impact on markets appears to have hastened a sourcing shift for Honda. Honda says it plans to transfer some Civic model production from the UK to Japan ahead of the closure of its Swindon plant in southern England in 2021, according to sources in Japan.
26 August
BMW confirms it is cutting around 400 out of 950 agency staff at its Oxford Mini plant in the UK, with the COVID-19 pandemic substantially impacting demand. The move will see Oxford moving from a three-shift pattern to a two-shift one by mid-October (operating five days a week as now), affecting around 400 out of the 950 agency personnel on-site, who are employed by Gi Group. More job cuts – this time BMW employees – are expected.
The US vehicle market is forecast to see August claw-back. "The automotive industry momentum continues in August as the industry claws back more and more new vehicle sales each month since sales bottomed out in April," said Eric Lyman, Chief Industry Analyst for ALG, a subsidiary of TrueCar.