A car breached security at Los Angeles-area Van Nuys airport, leading police on a high-speed car chase across a runway, several taxiways, the apron and through the field's perimeter fence before the driver surrendered.
According to reports and a live video from a news helicopter, the driver of the car, often with his arms out the window and sunroof, raced across the airport grounds on 6 November, narrowly missing a taxiing jet and several parked aircraft.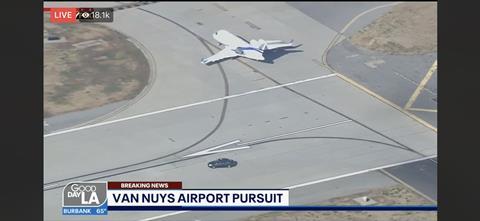 The Federal Aviation Administration advised air traffic of delays at the field, but the airport remained open during the incident.
"At around 8:50am the Los Angeles Airport Police engaged in a pursuit of an unauthorized vehicle that broke through a fence at Van Nuys Airport and entered the airfield," the airport writes in a statement on its Twitter feed.
"Aircraft traffic was immediately stopped. Both runways were re-opened around 9:50am after being inspected for safety."
After careening across the airport grounds, the car crashed through a fence and came to a stop on a busy street just outside the perimeter. There was no indication that any aircraft were damaged.
The Los Angeles Police department say they arrested one suspect at the scene and are investigating the incident.
Van Nuys is about 30mi (50km) north of Los Angeles International airprort, and while no airlines service the field, it is one of the busiest general aviation airports in the world.